Mrs. Hovis remembers her. Mrs. Stoghill remembers hearing her name. Mrs. Stanphill was her cooperating teacher and taught her her how to teach when she was just entering the profession 24 years ago!
Who do they remember? Ann Haywood Leal, author of Also Known as Harper and A Finders Keeper's Place.
Mrs. Leal grew up in the Seattle area. Home was Auburn, Washington and Lake Tapps was her summer playground. She visited the 5th and 6th grade Bulldog Readers this week when she came home to the west coast to visit and promote her latest book A Finders Keeper's Place. She shared photos and stories of her childhood and route to literary success.
Like most authors, she didn't achieve success easily.After writing her first book in elementary school, she sent it off to a publishing house, when Judy Blume, her idol urged her to in a letter. The rejection letter she received soon after was one of many she received over the years, but it never keep her from writing.
One of my favorite stories Ann told was how she found a special manuscript box which was filled with stories and ideas written by a family member who had long since passed away.  This woman lived her life raising a family on a dairy farm, but spent her spare moments writing adventure stories. Some of her ideas were on paper, and many others were written on whatever scrap of paper she had available to her. The back of a dairy receipt or ripped slip of paper–each held a handwritten sentence, paragraph or idea for a story forming in her imagination.
Ann realized she was not the first author in her family. She was also very lucky to have a family who believed in her talent from a very young age.  Her mother kept her notes and her stories as a little girl- even her apology notes with misspelled words and cross outs from when she got in trouble!
Now Ann is a published author and teacher. She teaches first grade in Connecticut and writes as much she can, which can't be easy when you have two full-time jobs!  She has a support group of writer friends who help her with every step and paragraph along the way. These are women who are not afraid to say, "No Ann, Harper wouldn't say that or do that. Fix it!"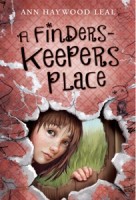 And fix it, she does. Bringing a manuscript from A Finders Keeper's Place, Ann showed the kids what it's like to get her novel back from her publisher. Marks in one color from one person, marks in a different color from an editor. Sticky notes that are not allowed to be removed from a page. These are the realities of revising for an author.
But where do the ideas come from? How does a woman who teaches first grade and lives a middle-class life write realistic fiction novels about the harsh realities of homelessness or the cruelty of mental illness? Ann's novels are not cutesy books about love-torn teenagers. Her novels are real. Perhaps too real for some readers.
Yet when everything is awful and the pain seems too cutting, Ann brings a sliver of hope into her books. She finds a way to introduce the idea that while maybe life right now may be really, really bad—it's a moment in time. There is always hope. The possibility for things to get better, change and improve is always there.
Still where do those ideas come from? 
Some come from her life. We all have our realities of life that others may not know about. Other ideas come from newspaper articles,  places she's been or seen. Take a fenced in and abandoned local swimming pool filled with algae covered rain water –a place she has seen–and twist and turn it. Suddenly it's the place Harper discovers with her new friends in Also Known as Harper.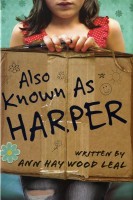 Go to the grocery store and see a young boy outside of the store staring at a station wagon pulling away with his family inside, while leaving him on the sidewalk, and you have a scene from A Finders Keeper's Place.  Her books are the sum of her experiences, with a mixture of fiction thrown in.
So, readers and would be writers, what is her lesson to you? Save everything! Don't throw away your first stories or silly notes you wrote. Save your doodles and beginning attempts at drawing. They are your beginning. They are the first rungs of your writing ladder.
 Someday, perhaps, you will look back at them, like Ann has done and be able to say, "I knew when I was in elementary school that I would be a writer, just like Ann Haywood Leal."
Ann's books are best for readers ages 9 and up.