While we were on Spring Break last week, our mailbox filled up with more postcards from our blogging buddies around the world!
One second/third grade class divided into groups to read each card and find out a little more about these places. They had to find three facts using three different resources.
1. a book about the country
2. the postcard itself
3. the computer and online resources
We found out a lot of facts. 
First we learned that we received 7 postcards from 3 different continents!
North America

,

Europe

and

Australia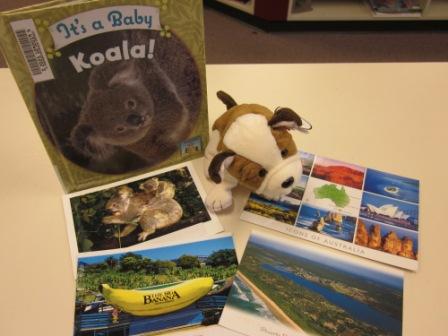 Alex the Bulldog likes looking at the postcards too!
Here are some of the facts we we learned about Australia.
The Big Banana is a tourist attraction in Coffs Harbour. They grow bananas near there.
Squash is a sport and not a vegetable in Australia!
Australians call a television a "telly" and a barbeque a "barbie"!
Koala bears live in Australia.
Stuarts Point is on the north coast of New South Wales. The beaches look beautiful!
We also learned about two more countries in two other continents!
Scotland is one of the countries in the United Kingdom, which is part of Europe.
Arbroath is famous for the Arbroath Abbey which was built in 1178.
Wow! That's 833 years old!
New Brunswick and Quebec are provinces in eastern Canada in North America.
It snows a lot in Quebec and many people speak French and English there.
A lot of different animals live in Canada.
Forests cover about 80% of New Brunswick.
Moose live  there.
Moose are very, very large! They can weigh 475 kilograms, which is 1047 pounds!
Don't mess with a moose!
We thank  our postcard buddies for sending us postcards from all of these beautiful places around the world.
Have you ever been to any of these places?
Are your one of our postcard buddies?
Tell us about it!
What is the weather like there? Is it sunny and warm? We are VERY tired of the rain!