The Ultimate Pickles had a great run in our  Battle of the Books competition.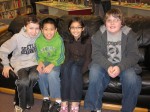 Sixth graders, Jonathan, Jacob, Caden and Josh were undefeated at our school and lost by only one point to our competitor in the West district playoffs. The team at A School became our district champions.
I am amazed every year at how well our kids know their books! The questions they have to answer are not easy and you have to have a great memory of the really fine details of all 12 books to do well.
All questions are answered with the name of the appropriate book. For example, one question this year was, In which book does the main character take a social studies test about Mesopotamia and Babylon? To answer correctly, the teams had to know that was a question about the book Found by Margaret Haddix.
We had 24 participants this year, including Gracie as our official scorekeeper and timer.
The Ultimate Pickles: Jonathan, Jacob, Caden and Josh
 The Sharpshooters: Dillon, Ben, Andrew and Spencer
The Mystery Readers: Mackenzie, Ashley, Rowan and Morgan
 The Bookworms: Bella, Hesed, Valerie and Kaya
 The Super Readers: Blake, Brandon, Clayton and Taylor;
Nemesis: Cheryl, Lauren and Grace
 The Rabid Angels: Patrick, Angel, Kwesi and Moses
 Blue Lightning: Tina, Tracy, Baptiste and Alice.
If you are not familiar with Battle of the Books, our district program is a voluntary  reading incentive  for students in grades 4-6. Our librarians decide upon a list of 12 books each year. Then in the fall the teams form and students begin reading the books on their own. In January, the teams at each participating school compete or "Battle" to test their knowledge of the books they have read. Once the building battles are complete, the winning teams advance to the district battle level. District battles are held via Instant Messenger, until one final team is declared the district Battle Champion.
At the end of the battle season, we celebrate Battle with the Books with a big pizza, cupcake and pop party in the library! At the end of the year assembly, all of the students are recognized in front of the student body and receive a Battle of the Books certificate.
Below is the list of books from this year. If you haven't read any of these, consider adding them to your reading list.
What is the best part of Battle of the Books?
Which book is your favorite?
Visitors – have any of you read any of these books? Do you have a favorite?
Leave us a comment and let us know!