To celebrate the day, and get some great counting experience, the first grade students had a homework project to make something that 100 things on it. No two projects are ever alike. We hope you will watch our movie of a selection of the projects made.
 We also like to support 100th day in the library by reading favorite 100th day books.

My personal favorite is The Wolf's Chicken Stew by Keiko Kasza. Wolf is hungry and wants to eat some chicken stew. However, first he wants to fatten up the chicken by bringing 100 pancakes, donuts and a 100 pound cake secretly to their door. Find out what happens when he finally meets the chicken family!
In the book Miss Bindergarten Celebrates the 100th Day of Kindergarten by Joseph Slate, all the kindergarten must bring "100 of some wonderful, one-hundred-full thing!" Similar to what our students do at school, the kindergarteners bring a selection of 100 things from 100 toy cars, to 100 play dinosaurs and 100 ants!
The Scholastic Reader, The 100th Day of School by Angela Shelf Medearis is a leveled book appropriate for young readers to read independently.
Jessica is a worrier and worries about everything, including what she is going to bring for her 100th day school project. All the other kids know wexactly what they are going to bring, but not Jessica. Find out what she finally figures out in the book, 100th Day Worries by Margery Cuyler.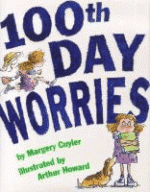 What was your favorite part of 100th day?
How do you celebrate 100th day at your school?
Leave us a comment and let us know!