Green lawns, balls of twine and 12 year old kids? You are probably wondering how those topics could possibly relate to one another. Well, really they're not….and they are topics of the new books in our library!
Lawn Boy Returns continues the funny story of the 12 year old boy who becomes a millionaire by mowing lawns. Lawn Boy only wanted to make enough money to buy a new inner tube for his bicycle tire and ended up with a stockbroker, a prizefighter, property and more problems than any 12 year old wants to handle. Equal parts quirky and funny-check out this new book by Paulsen, author of Hatchet.
Dan Gutman's book, The Genius Files, is the first of what looks like a new thriller adventure series. Genious 12 year old twins Coke and Pepsi McDonald (yes, those really are their names) join their parents on an RV cross-country trip visiting the Spam museum, escaping harm in some sand dunes and deciphering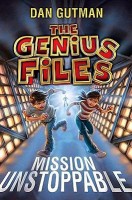 codes that lead them to places like The World's Largest Ball of Twine and The House on the Rock. Gutman includes sidebar notes with information the reader can use to track the trip using GoogleMaps. If you are a Gutman fan, or liked the 39 Clues series, then you will definitely want to read this new book.