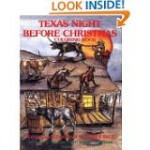 What stories do you love to read at Christmas time? Do you have a favorite? When my daughter was young, her Grandfather always read a Texan version of  The Night Before Christmas in his strong Texas accent. Instead of stockings, there were boots and instead of reindeer, it had long-horn cattle. The funny version always made her giggle. 
This week I will be reading Jan Brett's version of The Night Before Christmas to the first graders. It's the traditional story and I love it for the illustrations. In my mind, there is no equal to the quality and elaborate detail of Jan Brett's illustrations.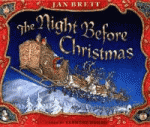 Every stroke of her brush has a purpose. Every panel tells a story and every building has a meaning. Set in Stockbridge, Mass, you can see the historic  1773 Red Lion Inn, a New England inn which has been catering to visitors for over 200 years. It's Brett's attention to detail which sets her work so far apart from the others.
We also have another version of the story, illustrated by Mary Englebreit. In this book, Englebreit's distinctive and bright style is another winner for the young and old.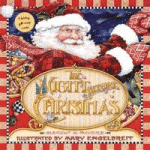 Fancy Nancy Splendiferous Christmas by Jane O'Connor and illustrations by Robin Preiss Glasser is a new addition to my favorite list. Nancy is a little girl who dresses like she is ready to greet the queen, but lives with rather ordinary parents. Now it's Christmas time and Nancy wants to make sure everything is "la-ti-da"!  This is a fun story for little girls who love to dress up!
The last book on my list is the one that makes me laugh out loud!  Dav Pilkey's Dragon's Merry Christmas, follows Dragon who is busy preparing for Christmas. Dragon is a fun-loving fellow, but always seems to get in trouble. His adventures will make you giggle!

Now it's your turn! What is your favorite Christmas Story? We would love to hear recommendations from our blogging friends around the world!
Keep Reading! Mrs. Hembree