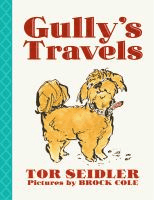 Gully's Travels by Tor Seidler
He had everything… a rich professor, an antique New York apartment, walks in Washington Square, fancy grooming every week, favorite, salmon-colored collar, everything he can brag about to his so called "friend". What else could he wish for? Gulliver, a sacred Lhasa Apso, had a perfect life, until one summer, while he and his professor were relaxing in Paris, his professor asked a hairy-dog-allergic woman to MARRY him!! Gulliver now had the worst worries on his mind. Will his professor give him up? Where would he go? He had bigger troubles now then thinking about what flavor of food he wants.
This book is great! Gulliver goes through hard life lessons like feeling rejection and then getting over it to open his heart to the ones that truly love him. He travels all the way from Manhattan to Paris. Gulliver is quite an amazing dog. This adventure, not only the dog can take, but all the interested readers out there too. I hope many others will pick up this book and enjoy it as much as I did!