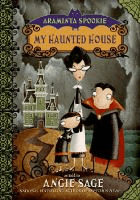 My Haunted House by Angie Sage (Araminta Spookie series)
Angie Sage must be a very creative person because when I read My Haunted House I felt like I was five again!  While reading this book I was the most engaged I have been, in at least six years.  The book made me feel very, very happy. In my opinion My Haunted House is humorous, adventurous, and also draws a lot of attention.
My Haunted House is about a girl named Araminta Spookie. Araminta lives in a house with her Aunt Tabby and her Uncle Drac. Araminta thinks that the house that they live in is haunted. Aunt Tabby wants to move to a more modern house, but Araminta won't leave the house until she finds a least one ghost. One day Aunt Tabby makes a sign that reads "This house is for sale".  Araminta starts to change the sign and everything turns out really goofy. I hope you will like the book as much as I did!!