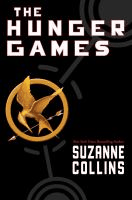 Hunger Games by Suzanne Collins
This book is a thrilling, excellent page turner. The story is about 12 poor districts that bow down to the capital.
The main characters in the story are Prim, Katniss her older sister, and their mother. You have to be 12-18 years old to be qualified to be in the Hunger Games.  Prim just turned 12 so her chance of being chosen is 1 out of 1,000,000. On the other hand Katniss loves her family and is an excellent hunter with a bow and arrow; well qualified for the hunger games. Out of nowhere Prim gets drawn to be in the Hunger Games. Every time a tribute is drawn a person from the district is allowed to volunteer to take someone's place but every time it's the same reply, "No".  But in this scenario Katniss take her sister's place for the girl tribute for the hunger games. The other boy tribute for district 12 was Peeta Malark, a boy she owed big favor to. It was when she went hunting and could not get anything and was about to starve to death. She saw the boy walk into his house while getting beaten by his mother for burned bread.   He tossed her the nice perfect bread with just a little burn on the side.
  A reason I like this book is because the author is the best at writing action and depression in a good mix. Another reason I like this book is because it's written by one of my favorite authors, Suzanne Collins.  If you're a Hunger Games fan and want to meet the author of this book, she is coming to the Barnes and Noble book store in Lynnwood on November 5th at 7pm.