Posts tagged
animals
Snowball by Ellen Miles (part of the Puppy Place series)
     This book is about a puppy that has no home. The family is the Peterson's and they have a foster home for dogs and puppies. Mr. Peterson has a friend that works at a gas station. One day, Mr. Peterson got a call from his friend while the kids were at school.  When the children were walking home, their dad was so excited and happy. When they were driving he said that his friend found a puppy at the gas station. When they arrived, they found a white Westie puppy that was about 4 months old.  They name him Snowball. Will Snowball be a trouble maker or will he be good?  What will all the puppies futures hold?
      So far I like this book because it is about dogs and puppies and I like dogs and puppies.  This book is interesting because there are happy and sad parts. I hope you will read it!
The Lion's Share: A Tale of Halving Cake and Eating it, Too is a story of an ant who is invited to have dinner with the lion. When she gets there, she is horrified by the manners and terrible eating habits of all the other guests. Cake is served for dessert, and each animal cuts the cake in half and then passes it to the next animal. Finally a tiny piece gets to the ant, where it crumbles into pieces. Ant decides to bake a cake for the lion as her gift the next day. Not to be outdone by a meesly ant, each guest boastfully announces that they will bake twice the number of cakes. "I can top that, announced the macaw. I shall bake the king twice as many carrot cakes: eight! And he shall have them tomorrow."  Colorful and bold ink and watercolor illustrations bring each page alive. I personally hope this book gets a Caldecott nomination. Kids will love the great storyline,pictures, and humor,  parents will appreciate the messages of manners and thoughtfulness, and teachers will love using this book to teach fractions and doubling. Available for checkout soon in the AG  Bell library! Review by Mrs. Hembree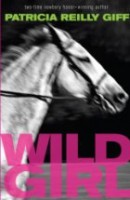 If you love everything horses, then Wild Girl by Patricia Reilly Giff is a good choice for you. After her mother dies, Lidie who lives in Brazil, finds that she has to move to New York to live with her father and older brother. She hasn't seen them in years and they have some awkward moments in the weeks after their reunion. Add going to a new school where you don't speak English, and nobody speaks Portuguese, and you have some tough times. Luckily for Lidie, her father is a trainer at a famous racetrack and she can live around the horses she adores.
Every other chapter tells the story about a new born foal and its start in life. Like Lidie, the foal faces many difficulties as it is removed from its mother and has to start life anew.
The story comes alive when Lidie and the foal come together at her father's stable. A satisfying read for girls who love horse books. (Reviewed by Mrs. Hembree)