Read Aloud Tuesdays
"Mrs. Hembree, what's the new read aloud book?"
"Are you starting today?"
"We're going to choose it?"
"Wow, okay, I'll be there! Still at noon, right? Still on Tuesdays?"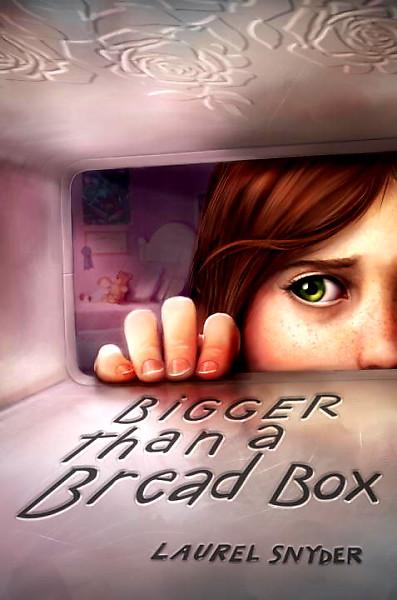 On Tuesday, the Read Aloud Club Kids chose Bigger Than a Bread Box as their next choice for me to read during our read aloud recesses.
Bigger Than a Bread Box is the story of 12 year old Rebecca who is forced to move to her grandmother's house in Atlanta with her mom and little brother while her mom tries to figure out her marriage. Dad is back in Baltimore along with all of her friends and everything she's ever known.
Rebecca is angry, confused and alone when she finds a magic box in the attic of her grandmother's house. A box that delivers her wishes. Like better jeans, and a new watch and new tennis shoes. She gets everything she wants, except her dad. Is having stuff enough to make Rebecca feel happy again? We will read Bigger Than a Bread Box to find out!
Watch the book trailer by Lily, age 12 who made the trailer with a Canon SD 1300 Digital Elph camera and iMovie.
But wait there's more!
The kindergarten-3rd grade students are starting Read Aloud Tuesdays too! From 12:30-12:55, Mrs. Hembree will be reading a chapter book to the younger students. We have something for everyone in the cold, wet, wintery months!
The men and older boys always go on a Dragonquest each year, but Darek is still too young to go. When they come back with a Great Blue, the largest and fiercest of all the dragons, Darek discovers a baby dragonling in the Great Blue's pouch. He decides to take the dragonling back to the fearsome Valley of the Dragons.
Dragonling is a moving and adventureful fantasy story, perfect for younger readers. It is my personal favorite for introducing readers to the fantasy genre.
So, remember, come on Tuesdays to the library for your chance to get out of the rainy, cold outside and into a world of books!
****************
What would you wish for if you had a magic bread box?
What is the best book you've ever heard?

Where have you been on Tuesdays at noon?
We have been in the library for Read Aloud Tuesdays!
Since early November, the intermediate students and I have been reading Inside Out and Back Again by Thannha Lai. We come in, take our shoes off, find a comfy place to sit and relax for 30 minutes of reading time.
This book is told in verse and relates the story of Ha, a 10 year old Vietnamese girl who is forced to flee her beloved Vietnam when Saigon falls at the end of the Vietnam War.
With her father off at war and not heard from, the family decides the best thing they can do to survive is leave for America.
They end up in Alabama, where Ha and her family slowly adjust to life in a very different country, where she is treated with open hostility from the other children at school and neighbors near them.
Her poems are achingly true to life and capture the anguish of leaving home, learning a new language and the anger she feels during this transition time.
 As each week passed, we often stopped and spontaneously discussed historical references and questions we had.  Questions were free flowing and the answers weren't always easy to explain or understand, as any question about war can be. Still Thannha helped us appreciate the beauty of her Vietnamese homeland…and of papaya!
Ha's love of papaya was woven through the novel like a golden thread. Since most of us had never tasted or even seen a papaya, we had some for our last reading.
I have never bought or cut up papaya before, so it was a completely new experience for me! The inside has lots of round brown seeds. It almost looks like caviar! Then the fruit is a reddish-orange color and sweet. Our papaya wasn't completely ripe, so it probably didn't taste as wonderful as it should. Still, we had fun trying it out to see why Ha liked it so much!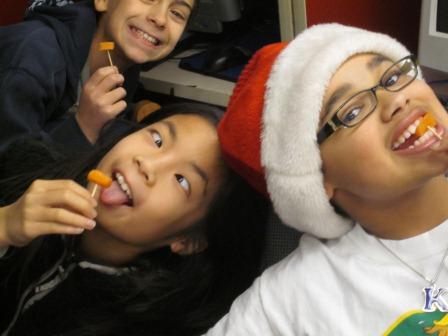 It was a sweet and fitting ending to a very special book! Now we have a new decision to make.  What should our next Read Aloud Tuesday book be? If you have an opinion, leave a comment and let me know!
****************
What do you think about Read Aloud Tuesdays?
Do you like tropical fruit like papaya or mango or kiwi?
What book should we read next?