Library News
Today is Tuesday, November 6, 2012.
In the USA, that means it's also our election day!
Every four years, voters have the opportunity to cast their ballot and vote for who they want to be president on our country. Registered voters choose the person who best matches their beliefs. They can either vote in person or by mail. In our area of Washington state, voters can only vote by mail. Voters receive a special ballot in the mail, fill it out and send it back.
We have two main candidates running for President of the United States. This year we have an incumbent, President Barack Obama, who is a democrat.The word incumbent in politics refers to the person who already holds this office.
If re-elected, President Obama will serve for another four years and then he will not be able to run again. We have a time limit of eight years as president in our country.
President Obama is running against former Massachusetts governor Mitt Romney, who is a Republican. If Mr. Romney is elected, he will serve for four years and then have the chance to be re-elected in 2016.
To vote, you must be a US citizen, at least 18 years old and be a registered voter. You can watch a short Scholastic video here that explains more about the candidates and the election.
A great book called, So You Want to Be President by Judith St. George describes the some of the lesser known facts about the men who have been our Presidents.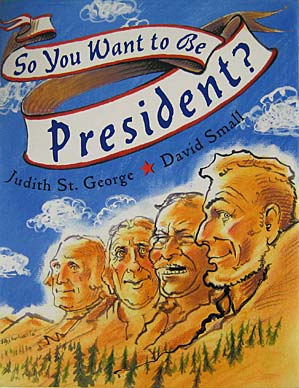 For example, did you know that six Presidents were named James? Or that Benjamin Harrison had eleven brothers and sisters?
This book is available in our library. It won the Caldecott award in 2001 for its illustrations by David Small. The call number is 973.09
If you want to keep up with the news of the election, you can visit most any of the news websites, such as CNN.
We will also have our own poll on our library blog. It will be open until midnight on election day. I wonder how our results will compare to the official results!