Battle of the Books 2012
Have you ever read a book that you just couldn't forget?
Did it make you laugh? Cry? Shout?
 Today's post is about my favorite books from 2012. These are the standout books from a year of reading.  Even though I may have read them months ago, I still think about them and consider them book friends. When I see the cover, or think of a passage from the book, I get a smile on my face. Not all of these books were written in 2012, although most of them were. I am in the process of reading all the Newbery Medal winners, so one book was published years ago. All, except the young adult books are available in our library. I hope you will stop in and check them out!
Tomorrow the American Library Association will announce all of the Youth Media Awards at their Mid-Winter Conference here in Seattle. I will be at the press conference for the very first time!  I can't wait to see what books won medal and honor awards. Above any other books, I have my fingers crossed for The One and Only Ivan by Katherine Applegate and Wonder by RJ Palacio.
Here are my standouts from a year of reading!
Categories: Favorite Graphic Novels, Favorite Picture Books, Favorite Non-Fiction Picture Books,Favorite Middle Grade Novels, Favorite Young Adult Novels, Favorite Audio Books
So there you are…my favorites. Not all will win awards tomorrow at the ALA conference. However, they have already won a special award in my heart because each of these books has touched me in a very personal way. I'm looking forward to lots of reading in 2013 and seeing where my reading travels take me!
***********
Were any of these books favorites for you this year?
Is there a book I should have included?
Leave us a comment and let us know!

After a nail-biting series of battles, the Book Wizards won the final battle to become our building champions! They will now compete against other building teams across the district for the district Battle of the Book championship. We will compete on a computer in a Skype-like format the week of February 27th.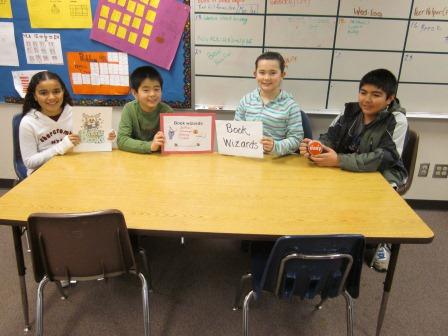 The Book Wizards competed in the final round of battles against the Sugar Covered Candy Canes. It was a close battle from the beginning and only one question separated the two teams.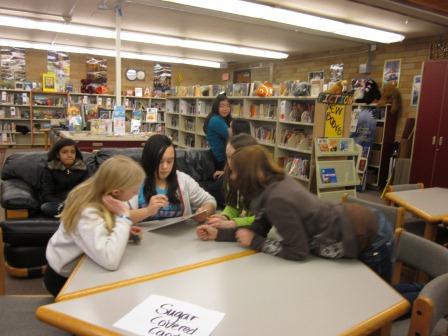 Battles started last week in the library. The ten teams were divided up into two groups. Each group competed twice answering 16 questions about the assigned books. At the end of the week, the top 4 scoring teams moved on to the semi-finals on Tuesday.
Teams had the option to make up a sign for their team.
After each question was read, the teams had 30 seconds to huddle and figure out their answer.
They wrote them on the white board and when I said. "flip!" they had to reveal their answer. Correct answers received 2 points and incorrect answers got no points.   
 The semi-final round was the closest competition I've seen in years! The Sugar Covered Candy Canes, the Book Bulldogs, The Four Musketeers and the Book Wizards faced off at noon on Valentine's Day with the library filled with student and parent spectators! At question 16, the Sugar Covered Candy Canes had the most points and had place number one in the final battle.
 However, the second position was in a tie between the Book Bulldogs and the Book Wizards. The Book Wizards had come back from behind after missing the first 3 questions in the battle. Both teams now had 22 points and it was up to the tie breaker questions to determine who would move on.
After 3 additional questions, the Book Wizards cinched the final post in the finals and at 1pm faced off against their 6th grade rivals!
Battle of the Books is a voluntary district reading competition. The district librarians select the books for the competition and each librarian writes questions about their assigned book. In the fall, we introduce the books to our 4-6th grade classes and encourage students to sign up and read the books.
Teams can then check out the reserved books from September to February and monitor their progress on the Battle of the Books chart in the library and on individual book marks.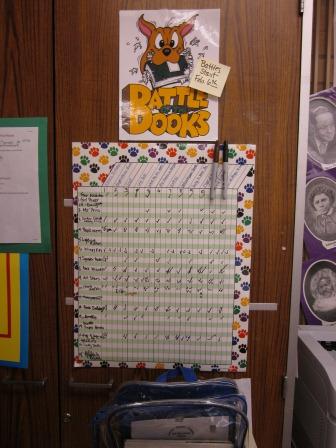 Everyone who participated in Battle of the Books will be treated to Pizza and pop at our Battle celebration in March! At the end of the year, everyone will be recognized in our final school assembly with certificates of participation.
*********************
Have you ever competed in a Battle of the Books competition?
What book would you like to see on the reading list next year?

Today's post features student written reviews of books! We love to showcase student writing and we especially love to publish book reviews!
Any student can submit a book review as long as they follow a few simple guidelines. First, all student reviews much be completely original and written by the student. They need to be under 300-400 words and positive in nature. I understand that sometimes there are books we don't like, but this library blog isn't the venue to share negative opinions.  I believe strongly in maintaining our positive digital footprint. I would hate to publish something that could hurt an author's feelings.
New book reviews are the most interesting to our readers! If you have read one of the new books in our library, be the first to have your review published! Kids want to know what to read! They especially like the new books!
Do some extra research! Find out the author's website, or  his/her audio reading of the book! Send me the link or URL address. Sometimes there are book trailers that we can link to with our blog. A book trailer is just like a movie trailer. It gives you a hint of what the book is going to be about so you will want to read it!
Even better – make your own book trailer! You can easily make a book trailer using Photostory or MovieMaker and the work will be all yours! We will load it onto SchoolTube and this blog will showcase your work. Not sure how to make a book trailer? Visit Book Trailers for Readers by Teacher Librarian Michelle Harclerode. She has some great examples and even a "how to" presentation you can view.
Now to our first student reviews of the school year, presented by Abi, Ella, Josa, Mathias, and Morgan!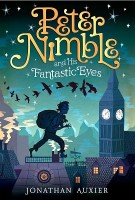 Peter Nimble and His Fantastic Eyes by Jonathan Auxier
Review by Josa
Peter Nimble is the main character. He is a ten year old blind orphan who is forced to become a thef in order to survive. One day he steals a mysterious box that contains three pairs of magical eyes. When he tries on the first pair, he is instantly transported to a hidden island and then sent on a journey to save a lost kingdom.
This book will have you reading about a princess, a knight who is the victim of a curse, sea dragons, an army of talking apes and of course, Peter Nimble, the most fantastic hero of all time. (for ages 9+)
Review by Morgan
Amanda is about to turn 11 and her party is not something she is looking forward to. When she goes to bed after her birthday, she is relieved that the day is finally over! But, when she wakes up the next morning, it's her birthday all over again…
I recommend this book to people who like realistic fiction which is what I love and enjoy. I enjoyed reading this book because of everything that keeps repeating over and over, but slightly different each time. If you want to know what I mean, check out 11 Birthdays and experience the 11 days of Amanda. (ages 9+, a Battle of the Books selection for 2012)
To hear some behind the scenes info on how 11 Birthday's was written, along with a short reading by Wendy Mass,  visit teachingbooks.net. 
Review by Ella
This book is about a family of four who go on a river rafting trip. The two main characters, Ryan and Tanner are very different and go through an amazing adventure. I could not stop reading this book. It was fantastic and readers who love adventure will like this. (ages 9+, a Battle of the Books selection for 2012)
The Mysterious Island by Jules Verne
Review by Mathias
The Mysterious Island is a great book. It's fantastic, combining complicated science with a theme of survival. Being complex in several ways, I would recommend this book for young adults and teens who like survival stories with some twists. I absolutely love this book, and after having read the book Twenty Thousand Leagues under the Sea think this book is absolutely fantastic. Though very scientific and complex, this book will have you holding back tears, resisting angry emotions, and fighting the urge to leap out of your chair yelling with happiness. This book could surely teach you a thing or two. (ages 11+)
Skeleton Key by Anthony Horowitz
Review by Abi
Skeleton Key rocked my whole mind because he's a teen superspy working for the M16. Alex is about to face something more dangerous than he can imagine, a man with a nuclear weapon that will stop at nothing to get his world back. Read the book to find out! I love this book because it has a breathless plot with a page turning thriller. I would recommend this book to someone who likes adventure and action. If you like this, then, this is the right book for you! (ages 9+, F  HOR Action/Adventure)
********************
Which one of these books interest you now?
Have you read any of them?
Do you recommend any new books to our reviewers?
Leave us a comment and let us know!