Mrs. Hembree
This user hasn't shared any biographical information
Posts by Mrs. Hembree
It's  November!  That also means that it's time for your nominations for the 2012 Edublog Awards! This is the time when educational bloggers can recognize the incredible work of other bloggers around the world.
It's not easy narrowing the choices to one nominee. Our blog has been greatly influenced by the work of many amazing librarians, teachers and bloggers. It's our turn to say, "Thank you!" in nominating them for an award!
Have a favorite blog? You can nominate until November 26th. You can find more information here.
Here are my nominees for 2012
Best Library Blog: Watch. Connect. Read – I discovered book trailers because of Mr. Schu's use of them in his incredible blog. That single discovery has certainly influenced the course of my career in the last year. There would be no One and Only Ivan video or Kid Lit Movie project if I hadn't discovered this incredible blog.

Best Video/podcast: Mr. Avery's Classroom Blog math videos. This 6th grade teacher knows how to take math, add a little fun, and create videos that teach other kids hard mathematical concepts.
Best Classroom Blog: 4KM and 4KJ @ Leopold Primary School - This blog was one of the first I ever discovered on the web. Last summer I met Mrs. Morris, one part of this team blog. These teachers never stop reaching for new and innovative ways to share what they are doing in the classroom.
Best Student Blog: BB's Awesome Blog There aren't enough fabulous words to describe BB's student blog. For two years BB has kept her blog going with charming and original weekly posts, with the help and support of her mom AA. Someday I am going to fly to Australia and meet this incredible family.
Lifetime Achievement Award: Sue Wyatt  This Australian teacher retired last year, yet she continues to help students and teachers with the Student Blogging Challenges. Retired, but still working…a lot…for free? Who does that anymore? Sue does!
Influential Blog Post: Linda Yollis- November is Family Blogging Month Linda charted the course for hundreds of teachers on how to involve families in blogging.
Individual Tweeter: @JoAnnJacobs68-  During the depths of the dark, dank and dreary Seattle winter months, JoAnn brought sunshine into my life with her thoughtful tweets and Hawaiian flower photos.
Best Twitter Hashtag: #choose2matter – Angela Maiers started this movement. She has a great passion for helping students understand what they do really does matter and make a difference in our world beyond the 4 walls of the classroom.
Best Group Blog: Nerdy Book Club – No other group blog supports the love of reading like the Nerdy Book Club. Add it to your daily reading for a dose of literary bliss.
  EdTech Blog - Cool Cat Teacher Blog - I can always count on learning something new about educational technology when I read one of Vicki Davis' blog posts!
Best Teacher Blog: Finding Ways for All Kids to Flourish - Joan Young – Joan writes from her heart. She really does believe that everyone has a place and can show their best.
Best Individual Blog - Tracy Watanabe Tracy knows how to bring her knowledge of teaching, technology and resources together in a great blog.
*************
Now it's your turn!
 I hope you will nominate someone who has helped you!
Last month Pete the Cat left on a trip to Australia!
He arrived safely and has been having heaps of fun! The word "heaps" is used in Australia when we say "lots", such as lots of fun. Check him out in the Bird of Paradise plant in BB's backyard!
BB has been writing about his adventures and I hope you will visit her blog to find out all the details.
Please leave her a comment and let her know you visited. Here is the direct link to her blog.
 **************
What do you think Pete should do while he is "down under"
What season is it in Australia now?
Do you think Bird of Paradise plants would grow in Seattle?
Why designate a month to picture books?
Don't we all love picture books already? The answer is simple. With the birth of eBooks, iPads, Kindles, Nooks and other online reading devices, many feel traditional printed picture books may be on the way out.
This is the 2nd annual celebration of Picture Book Month. Founder Dianne de Las Casa decided it was time to celebrate picture books in their printed format so she created an initiative to designate November as "Picture Book Month".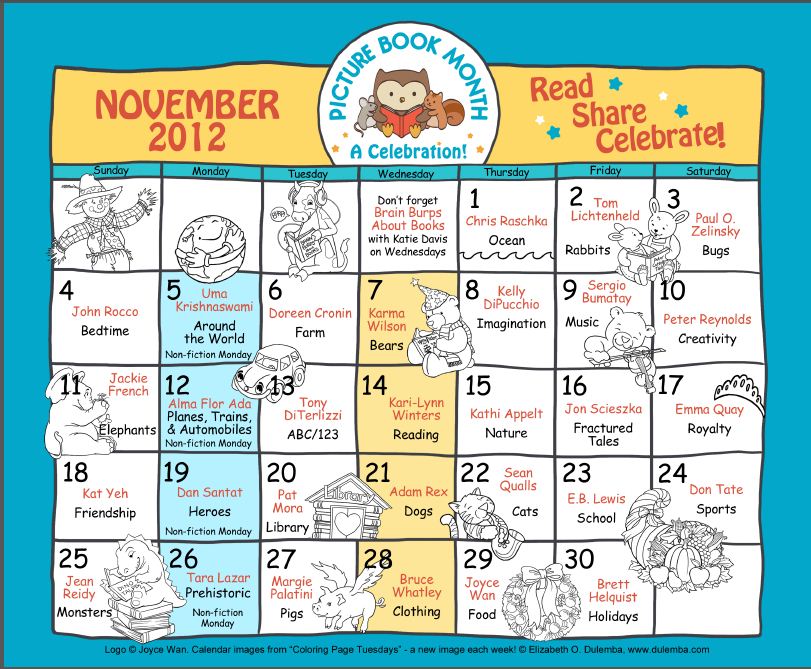 Every day in November, there has been a new post from a picture book author explaining why he/she thinks picture books are important. You can visit the website from the link here.
We always celebrate picture books in our library. However, we have also added some art to the mix in our  lessons. Here are the highlights of our week.
What says Thanksgiving Day more than turkey, mashed potatoes and pumpkin pie?
 The Macy's Thanksgiving Day Parade!
For more than eighty-years, children young and old, have been delighted by the bobbing and swaying gigantic balloons that float down the streets of New York City in the parade.
Melissa Sweet tells the true story of Tony Sarg, the puppeteer who was the inventor of the Macy's parade balloons. After we read this book, some of the classes also made Balloons Over Broadway mini-boxes and finger puppets. You can get this activity and more at the Houghton-Mifflin website here.
Thanksgiving is a time to reflect and say thank you. While this book is not a traditional Thankgiving Day book talking about the Mayflower and pilgrims, it is a book about the importance of thanking friends for all the things they do for each of us.
 In first grade, we used the Splat the Cat Activity Kit and added a fall leaf. Students wrote what they are thankful for during this holiday season.
If you want to read a funny chapter book to entertain you during the Thanksgiving holiday week, pick up a copy of  Junie B., First Grader: Turkeys We Have Loved and Eaten (and Other Thankful Stuff). Find out how cranberry sauce in a can, exploding biscuits and rainbow sprinkles relate to Thankgiving and first graders. I guarantee this book will have you laughing in minutes!
The last book I want to include this week is Hello, Hello by Matthew Cordell. I think every family needs to add this book to their collection. In fact, Matthew has a blogpost listing 26 reasons why every family needs to read this book. You can read that post here.
It's a story of what we really need to remember as we move forward into a very connected, very digital age.
Using simple text, charming watercolor illustrations, and animals in unusual places (flying fish and whales in the sky?), Cordell tells the story of Lydia, who helps her family remember that there is a time and place for electronics.
For a few minutes in the upcoming days, I hope you will set your gadget aside, and go outside to jump in those leaves and have some silly, crazy, outside fun!
*************
What is your favorite balloon in the Macy's Day parade?
What friend would you by thankful for this month?
What gadget could you give up for a day?
We have a new President!
 Yesterday the American voters re-elected Barack Obama to serve as our President for another four years. Our blog poll had the same results!
 If you would like to read more about President Obama or his family, we have three biographies available in the library. They are located on  the biography (921 OBA) shelf.
************
Given the chance to meet any of the First Family face to face, what question would you ask?
(President Obama, Michelle Obama, Malia or Sasha)
Today is Tuesday, November 6, 2012.
In the USA, that means it's also our election day!
Every four years, voters have the opportunity to cast their ballot and vote for who they want to be president on our country. Registered voters choose the person who best matches their beliefs. They can either vote in person or by mail. In our area of Washington state, voters can only vote by mail. Voters receive a special ballot in the mail, fill it out and send it back.
We have two main candidates running for President of the United States. This year we have an incumbent, President Barack Obama, who is a democrat.The word incumbent in politics refers to the person who already holds this office.
If re-elected, President Obama will serve for another four years and then he will not be able to run again. We have a time limit of eight years as president in our country.
President Obama is running against former Massachusetts governor Mitt Romney, who is a Republican. If Mr. Romney is elected, he will serve for four years and then have the chance to be re-elected in 2016.
To vote, you must be a US citizen, at least 18 years old and be a registered voter. You can watch a short Scholastic video here that explains more about the candidates and the election.
A great book called, So You Want to Be President by Judith St. George describes the some of the lesser known facts about the men who have been our Presidents.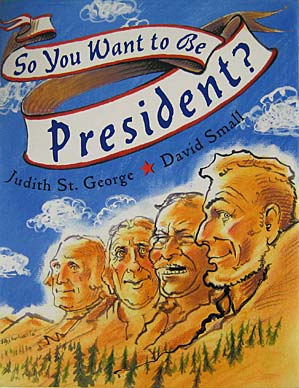 For example, did you know that six Presidents were named James? Or that Benjamin Harrison had eleven brothers and sisters?
This book is available in our library. It won the Caldecott award in 2001 for its illustrations by David Small. The call number is 973.09
If you want to keep up with the news of the election, you can visit most any of the news websites, such as CNN.
We will also have our own poll on our library blog. It will be open until midnight on election day. I wonder how our results will compare to the official results!
Do you love to play dominoes? Do you enjoy the clink, clink, clink as dominoes topple in black and white lines? If so, pick up a copy of Toppling by Sally Murphy. Josa donated a copy for our library and wrote the following book review!
John is the main character of this book. He is a boy with an unusual hobby–he likes to set up dominoes and tip th first one and watch them topple in complicated patterns. John's goal is to win the world record of toppling. then something happens to make John's world start to topple. His best friend Dominic gets very, very sick. This is a one-of-a-kind story about change, coping and friendship. This is a book for ages 8+ or anyone who wants a good read. It is illustrated very nicely.
You can find Toppling by Sally Murphy in the realistic section of our library!
Here is the call number: F  MUR  Realistic
***********
Have you every played the game dominoes?
What have you built using dominoes?
Skyping! Skyping! I'm SO glad someone invented Skyping!
    Today Ms. Holder's library class skyped with author Stephen McCranie. Stephen is the author of the Mal and   Chad graphic novel series.
   Instead of having the author come to our school, we visited with him virtually.
  A  few weeks ago Mrs. Hembree found out on Twitter that Stephen was offering to skype with teachers and librarians. She signed up and our school is one of over 70 schools Stephen will "virtually" visit this fall.
During the call we watched him draw on his computer. First he taught us that comics are stories + pictures.
Then to develop our own story, he had us answer two questions:
What does my character want?

What is preventing my character from getting what he or she wants?
We decided that our character, Tara, wanted to own a bakery, but her family wasn't very supportive of that idea. She ran away, met a baker and learned how to become the baker she always wanted to be.
After that we had a quick demonstration on how to draw a picture. We learned it's easy if you use shapes like circles, squares or triangles. As Stephen drew on his computer, we tried to guess what famous characters he was drawing!
In the last portion of our visit, Stephen asked us to start a story. Then before our eyes, he drew a scene from our story.
While he was drawing, he also answered our questions.
We found out that he has loved comics since he was about 5 years old. He drew his first comic strip for a school newspaper in college. He likes comics because they are a great way to express yourself. They are an artform with a lot of potential.
He reads lots and lots of books and really enjoys the Bone series by Jeff Smith. Stephen said he believes that creativity is like a muscle in your head. When you practice you get better over time. If you want to get better at drawing , you need to draw and practice every single day. The tools for drawing don't really matter. Pencils, crayons, pens – use whatever you want and draw, draw, draw.
His favorite book is the new one coming out on December 6th!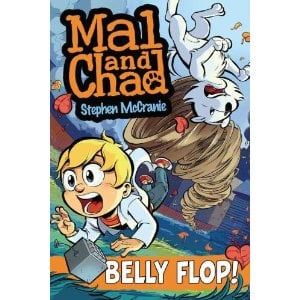 We will be sure to buy a few copies for the library! After about 30 minutes, our time was up! It was a great first Author Skype experience! Thank you Stephen for visiting the Bulldog Readers! If you are looking for Stephen's books, here they are.  We have both available for check out in the library. You can also link to his Mal and Chad website here.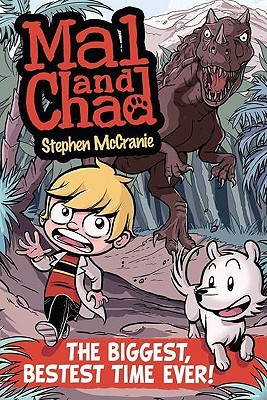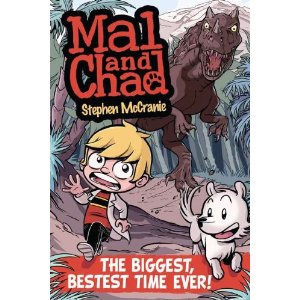 ***************
What do you think our story was about?
Have you ever skyped with anyone? Do you like it?
What is your favorite graphic novel or comic series?
Pete the Cat  is a good friend of Mrs. Hembree. This weekend he came home with her so he wouldn't be lonely sitting in the library all weekend.
On Saturday morning, Mrs. Hembree got up and walked into the dining room.
What did she see?
Pete the Cat was stuffing himself into a really big envelope!
"What are you doing Pete?" she asked. Pete started singing!
"Where are you traveling to Pete? I see there are some letters on the envelope. Does that say Australia?" Mrs. Hembree asked Pete.
"YES! Australia!" Pete exclaimed! "I'm going to Australia and I'm singing this song!"
"Pete, won't you be scared? Australia is a long way from Seattle! It's not even in North America!" said Mrs. Hembree.
"NO!" he shouted! "I won't be scared! I'm going to see my friend and I'll be singing my song!"
"Tell me Pete, how did you decide to go to Australia?  Do you know someone there?" asked Mrs. Hembree.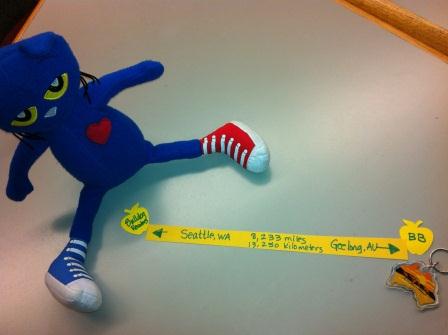 Pete said, "Do you know BB our Blogging Buddy? She asked me if I could come visit! So I decided since it started raining here, that I would visit her in Australia.
Did you know Australia is in the Southern Hemisphere? When it's fall here, it's sunny and warm there because it's springtime! I'm going to have fun and I'm going to be singing my song!"
"Ok Pete. It sounds like you know what you want to do and who you want to see! Let's go to the post office and get you on the road!" Mrs. Hembree said.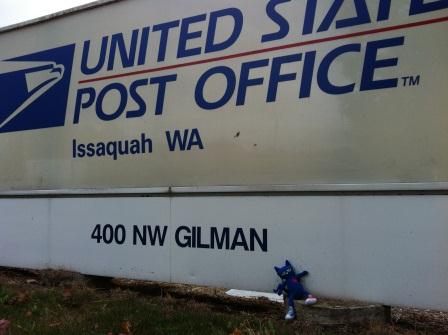 "Thanks Mrs. Hembree! Don't forget! I'm going to see BB and I'll be singing my song!" Pete waved goodbye and was gone in a flash. She could hear in the background faint sounds of his song…..
***************
Oh no! Australia is a long way from here!
Do you think he will get lost?
Will he have fun?
Will he get back in time to go to Prague?
Leave us a comment and let us know what you think!
It's mid-October.  The leaves are turning. The days are getting shorter and the nights colder. Are you looking for a new book? Check out what Angela drew for the library yesterday!
Maybe you are thinking that it's getting close to Halloween and you want a spooky book to thrill your reading time!
Spooky stories are always popular with some students (not me – I get nightmares). This past weekend when I was in Yakima at Washington librarian conference I had the opportunity to listen to the author Royce Buckingham talk about his love of scary books and movies!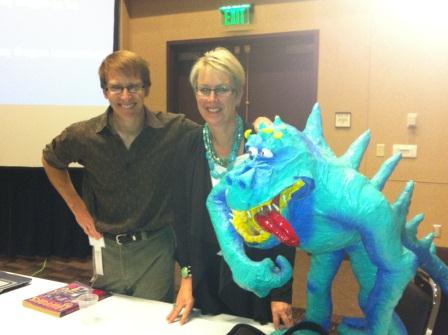 Royce shared how the movie Jaws was particularly scary when he was a kid! I remember seeing it too and I didn't swim in the ocean for a month afterward! However, he loves scary monsters and books like that, which is why he now is both an attorney and a writer of spooky stories.
Do you remember seeing the photos from when Hitu visited the Jaws set last summer and did a little reading in Jaws! This is the movie Royce is talking about! Yikes! That is a scary photo!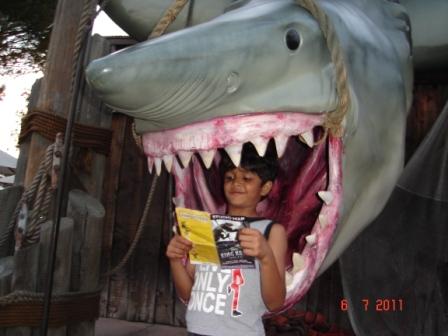 If you love this kind of book come in soon and check out the new books by Royce Buckingham.
You don't have to like monsters to like all the new books in the library! Look at this selection available!  From graphics to humor to fantasy or mystery we have something new for you!
Visiting Yakima was a lot of fun! I had a chance to talk with lots of other librarians and share ideas with them. If you are a teacher librarian looking for a link to my slides, here you go!
****************
Do you like to read spooky stories?
Have you seen Jaws at Universal Studios?
What new book will you want to read?
Congratulations and thank you everyone who made our annual bookfair a screaming success!
Also,  between sales at the fair and sales online, we are at 103% of our
 fundraising goal! That means that I will be book shopping in the upcoming weeks for
new books to add to our library.
This is the stack I already purchased from the fair. If there is a book you absolutely must check out, leave me a reserve copy slip and I will get it to you as quickly as I can.
Many, many thanks to our bookfair volunteers! Without their help, our fair would not have been such a great success! Here is our STAR CAST of volunteers!
Josa Chadha
Maya Lustgarten
Mrs. Lustgarten
Mrs. Bernard
Mrs. Luedicke
Mrs. Blackford
Mrs. Kenney
 Mr. Fornia's kindergarten class also deserves a Super Special Shout-out! His class had the  most online sales  of any teacher at our school! Way to go Mr. Fornia's class! Everyone is getting a SUPER STAR bookmark! Woo-hoo!
When I named this post Thank You Near and Far, it's because of our blogging friends thousands of miles away from here. I want to give a terrific thank you to BB and her mom AA in Australia! On Friday when I got home from school, I found this in my mailbox!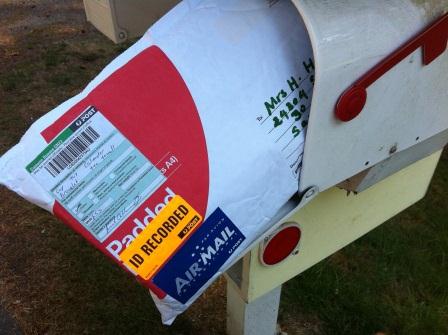 Inside was this…..
I love my new Geelong Cats hat. This is an Australian "football" team. In the US, we call it "rugby" and in Australia, they call it football! Talk about confusing!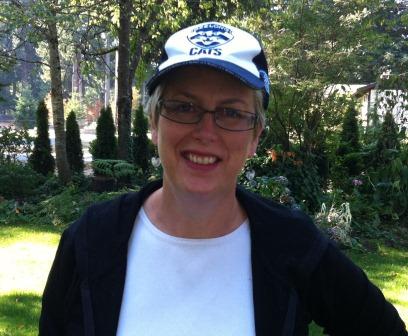 Somehow BB found out that I love jewelry too, because she sent this beautiful bracelet.
Somehow the words thank you don't seem like enough for such a special package of gifts! The blogging friendship we have developed across the miles is dear to my heart. I hope someday we will meet in person! In the mean time, I have some new decorations in the library!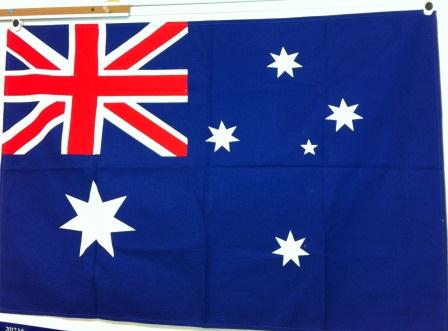 And, last, but not least is a present I received from Penny! We have been reading Pete the Cat books and singing his songs in kindergarten. One morning Penny walked into the library before school started with this picture.
"Do you know who this is?" she asked me.
  "It's Pete the Cat and his SEVEN groovy buttons!" I replied.
Thank you Penny for taking the time to make this drawing! It's hanging in a special spot on our library wall!
**********
What books or series do we need to add to the library?
Tell me about a special package you got in the mail!
What should Pete the Cat do next?