Mrs. Hembree
This user hasn't shared any biographical information
Posts by Mrs. Hembree
We have unbelievable news!
The Bulldog Reader Blog made it to the voting round for
Best Library Blog in the Edublog Awards!
This is our first time being nominated and we are thrilled that we made it to the voting stage! Now we need your help!
You can vote for our blog from your home computer, your work computer or your smart phone. Voting ends on Tuesday, December 13th at 9pm Pacific Standard time.
Please note, you can only vote one time per day per category from an IP address. So please vote daily!  Here is the direct link to the voting page for Best Library Blog!
Once you open the page, you will see a drop down menu. In category select, Best Library/Librarian Blog. Once you do that, another drop down menu will open with all the nominees.  Select Bulldog Readers Blog. It will look like this.
 Then push the Vote button and you are done for that category.
Your family, friends, neighbors can all vote for us! It doesn't have to be just someone at our school.
This is world-wide voting, so as long as you only vote once from the same computer per day, you are free to vote from anywhere in the world. Once per IP address per day means you can't vote from the same computer more than once per day. You can however vote from your work, your home computer and your smart phone as many days as you can!
You are also encouraged to vote for other nominees! We wouldn't be where we are today without the support and encouragement of some of our favorite bloggers. They would love your support too.
Here is a listing of other nominees who have been very supportive of our blog. We encourage you to consider voting for them too!
Best Student Blog - BB's Awesome Blog
Best Use of Educational Audio, Video or Podcast - Mr. Avery's Classroom Blog
Best Group Blog - Our World Our Stories
Best Class Blog - Please spread out your vote! All of these teachers have helped us tremendously in the last year. Mr. Avery's 6th grade class blog, 2KM and 2KJ, Mrs. Yollis' 3rd grade class blog, Mr. Salsich's Class, and Mrs. Watson's 2/3 Class.
Best New Blog- Traveling with Mr. Davo Devil and Two Libraries/One Voice
Best Teacher Blog – Integrating Technology and Teaching Literacy in the Early Years
Lifetime Achievement Award – This is the most difficult category to choose because every person on the list deserves the award.  Have fun choosing!
***************
Happy voting!
Leave us a comment and let us know who you voted for!
On Friday, Mrs. Raffel's library class Mystery Skyped with a class in Nebraska!
Mystery Skyping is when one class skypes another class and you have to figure out what state they are skyping from.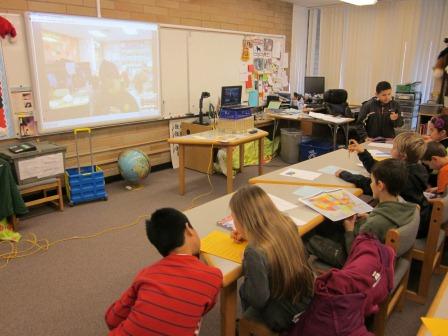 The last time Mrs. Raffel's class came to library, they researched the answers to ten questions about Washington.
They would be sharing this information with the other class during the skype session.
3 Interesting Facts
Time Zone
Famous People
Climate of the state
Famous Landmarks
Vacation Places
Bordering States
Capital city
Our students took turns sharing facts about each others' states. As the students learned a new piece of information, they used their almanacs, USA map and time zone map to narrow down the choices.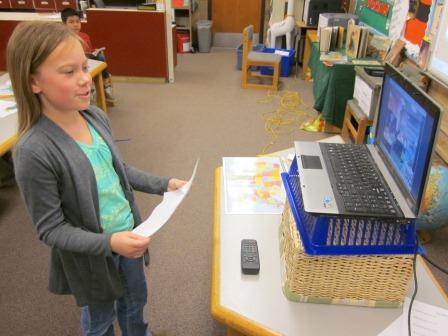 After all the facts were shared, the students had one chance to guess which state the other class was from.
We all learned new information about Nebraska and Mrs. Geldes' class. You can visit her blog here. For example, there is a large Air Force base in Nebraska. We also found out that the name Nebraska, means "flat water" in the Oto Indian language. Former President Gerald Ford was born in Nebraska. It's very cold there in the winter and very hot in the summer.
Nebraska is is divided by two time zones: Mountain Time Zone and Central Time Zone. Mrs. Geldes' class was in the Central Time zone, which meant they were two hours ahead of Pacific Time. The fact that confused us the most was that Nebraska has the largest indoor rainforest. Since Washington has a large temperate rainforest on the Olympic Pennisula, it was curious to us that they had an indoor rain forest!
After we each guessed correctly, we spent a couple minutes sharing answers to other questions. We all found it funny when we found out their school was in Bellevue, Nebraska when our town borders Bellevue, Washington!
Following our Skyping session, we spent a few minutes reflecting on the experience. All agreed that it was a really fun way to learn about geography.
"It was a cool experience to find out where someone lived with the rest of the class." ~ Kobe
"I like seeing another class from another state. It kind of feels fun talking to a class that about 750 miles away from you.! ~ Georgia
"It was fun to learn about their mystery state and about their school." ~Kaylee
"I knew what state it was on the famous people question!" ~Natalie
"It was kind of scary because we had no clue who you guys were!"  ~Haley, Erika & Eduardo
"I thought it was amazing! I never ever met some people in another state. I wish we can do another Mystery Skype!" ~ Erika
"It was awesome! We thought it was nice talking a 3-state away classroom and searching through the almanac." ~Niku & Jack
"It was weird talking to a different class. It was really fun as well! " ~Irislyn & Taylor
"It was fun learning new places and facts in Nebraska. The fun part was being able to talk with another school!" ~Mark
"It was nice to Mystery Skype!" ~ Eric
*************
What did you learn about Nebraska?
Should we try Mystery Skyping again?
Have you ever skyped with another classroom?
Finding a perfect book to read is as easy as looking in a …..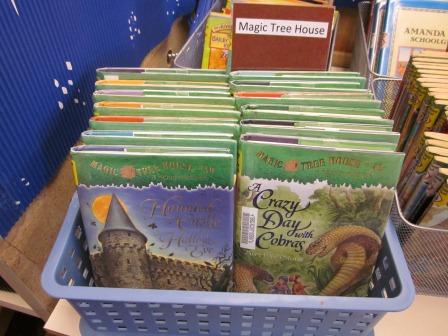 Our early chapter book readers don't have any trouble finding books to read because we have them all in baskets where they are easy to find!  Like Junie B. Jones? Find the basket? Like Magic Tree House?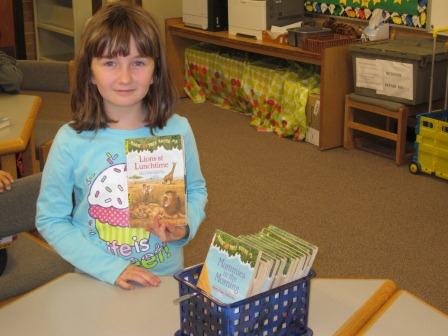 Find the basket! It really is easy as one, two, three!
In class we also have done lessons on all of the easy chapter book series available in our library! Using a worksheet with only some of the letters of book series typed in, students had to sleuth out the answers!
 By the time everyone finished the paper, they had found all of our early chapter book series. We have over 20 different series to choose from! Now when someone says, "I need a good book", we all respond, "Look in the baskets!"
***********************
What is your favorite early chapter book?
How do you have your books arranged in your library?
Leave us a comment and let us know!
Thanksgiving is only days away and we have been reading some of Mrs. Hembree's favorite Thanksgiving Day holiday books in the primary classes.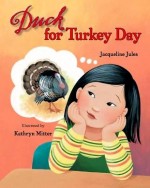 Tuyet is dismayed when her Vietnamese/American family wants to eat duck for Thanksgiving Day dinner. When she returns to school after the holiday, she soon realizes that many families don't eat turkey at Thanksgiving either! Tuyet realizes matters is spending time with family and friends, not what food they eat. Nominated for the Washington Children's Choice Picture Book Award for 2012.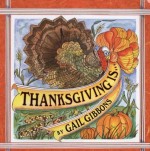 Thanksgiving Is by Gail Gibbons provides information about the origins and meaning of Thanksgiving in America, and describes many of the symbols and traditions associated with the holiday, including feasts and parades. (Follett description)

  When the turkey slides out the door and into the pond, a series of food disasters happen to the Tappleton family. They too realize that family is more important than special food on this holiday.
  A group of schoolchildren go on a field trip to Farmer Mack Nugget's farm. When they realize that the fat, and friendly turkeys are about to become Thanksgiving dinner, they rescue them from the dreaded ax. Dav Pilkey's story always generates some Thanksgiving laughs.
Check out these original Thanksgiving stories!
The fourth grade students have also been in the Thanksgiving spirit! Ms. Holder, Ms. Lawson and Mrs. Raffel's classes each wrote a class turkey story, some with original illustrations. I think you will enjoy the creativity of these funny turkey day stories!
<
******************
What is your favorite Thanksgiving story?
Have you every written a Thanksgiving Day story or poem?
What does your family like to do on holidays?
 What does the word genre mean?
A genre is simply a fancy name for a group of books which share style, form, or content. For example, books that have characters who may have special powers, or magic, talking animals, mythical beings or are set in a medieval universe are some of the typical elements of Fantasy books.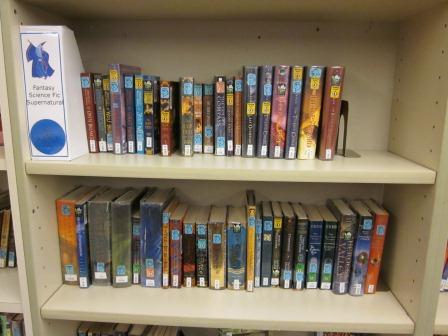 It's really important to know this term in our library because our fiction section is organized by genre. The intermediate students have been learning about genres in library class so they will be able to find what they want on the shelves.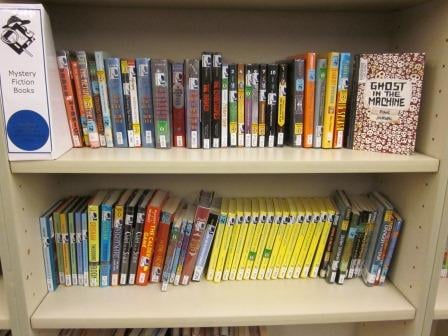 Our library looks a lot more like a bookstore than a traditional library. If you like mystery books, you can come in to the library, walk to the mystery shelves and find all of our mystery books in the same place. They are still in alphabetical order by the author's last name, like a regular library, but they are also shelved by genre.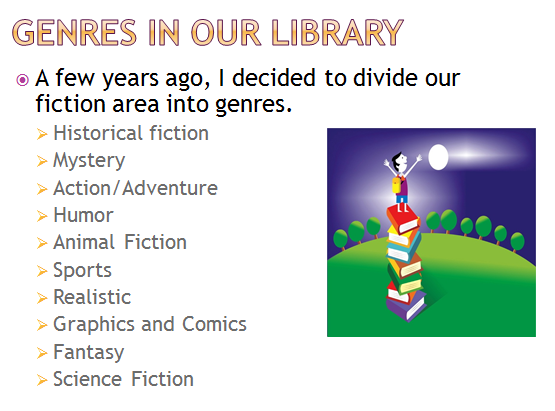 Our transition to a genre based library happened a few years ago when I noticed that students who came in to the library would get frustrated when they couldn't find another book similar to the one they had just read. They kept asking, "Where are the fantasy books?" or "Can you help me find another science fiction book?" 
The students got frustrated because they couldn't find what they wanted quickly. I also was upset, for the same reasons.  Even worse? Kids walked out of the library without a book, saying they would just go to the bookstore and find what they wanted.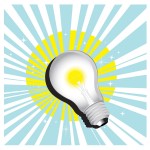 The bookstore format could be my solution! We would shelve our books by genre and then the kids would be able to find what they wanted easily. We started by putting a sticker on all the books. Then we grouped the genres into piles, arranged them alphabetically by author's last name, and reshelved them in their new genre neighborhood!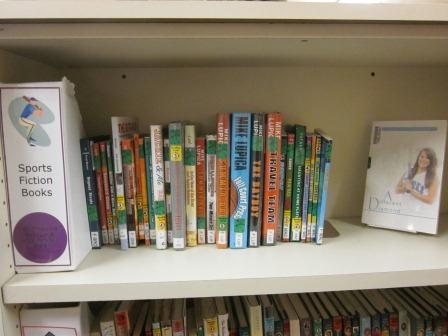 The conversion was four years ago and our Bulldog Readers love it! They learn about genres for a purpose. They can easily find the fiction books they want. Our check out numbers spiked after the conversion and have stayed high ever since. That's why we love genres in the Bulldog Library!
*********************
What do you think about our genre based system?
What is your favorite genre to read?
Leave us a comment and let us know!
I  am so excited that it's November!
 Why is that you ask? Because November is when the Edublog Award nominations open! This is the time when educational bloggers can recognize the incredible work of other bloggers around the world. Our blog has been greatly influenced by the work of these amazing teachers and it's our turn to say, "Thank you!" in nominating them for an award!
 Here are the Bulldog Reader choices for 2011—-
Nobody makes classroom educational videos that help children learn about math better than Mr. Avery! Remember the Avery Bunch Fraction video? Mr. Avery has shown his students the power of videos and how they can help visual learners break a hard concept down into recognizable and understandable pieces! "Mr. Avery, You Rock!"
Mrs. Morris maintains two blogs: one for her classroom in Australia, http://2kmand2kj.global2.vic.edu.au/ and one about how to integrate technology into the classroom. Whenever I have a question about educational blogging, Mrs. Morris has the answer. Nobody has taught me more about blogging that Mrs. Morris and she lives 8,000 miles away from Seattle! "Mrs. Morris, You Rock!"
BB and I have been blogging buddies since September 2010, when I discovered her awesome student blog when she was a student in Mrs. Morris' class. Since then we have exchanged countless comments back and forth. Her ability to keep her posts fresh with new ideas always amazes me! She never forgets to reply to a comment on her blog and uses outstanding digital etiquette. "Bianca, You Rock!"
Far, far away at the American International School of Budapest, Hungary is a wonderful library blog maintained by Mrs. Ducharme. I discovered her blog in the spring of 2011 and love to visit it often to see what great new ideas she is trying in her library classroom. Her lessons and blog have a clear focus instilling the value and importance of reading. "Mrs. Ducharme, You Rock!"

Mrs. Yollis won the Lifetime Achievement Award in 2010, but I still think she deserves recognition this year too! Our students have Skyped with Mrs. Yollis and continually learn from her incredible work. I feel very fortunate to be able to call Mrs. Yollis my blogging friend. Down under in Australia, Mrs. Morris has been a constant influence on my learning and stateside, Mrs. Yollis is her counterpart! "Mrs. Yollis, You Rock!"
In the great state of Michigan is Mrs. Moore's Techie Kids blog where she teaches over 450 students the skills they need in technology. Split between two schools this year, Mrs. Moore still manages to do quad blogging with three other classrooms and also take part in the Stories Around the World group blog. "Mrs. Moore, You Rock!"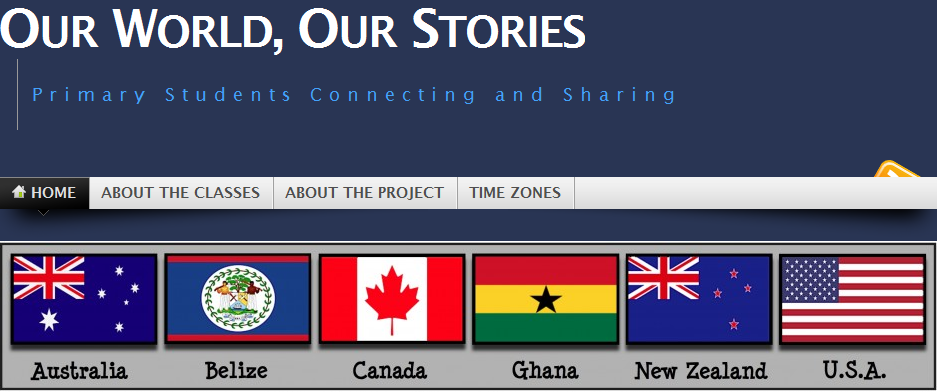 This group blog only began a few weeks ago, but already it's had over 1,800 visitors. Mrs. Morris & Miss Jordan, Mrs. Yollis, Mr. Salsich, Mrs. Watson, Miss Usher and Mrs. MacKenzie & Mrs. Webb share their stories and culture with each other and the world. International group blogs like this one truly show the meaning of flattening classroom walls. "Our World, Our Stories, You Rock!"
Don't forget to nominate your choice too!
There are hundreds of quality blogs out there in the blogging world, so nominate them for the Edublog Awards for 2011! Go to the Edublogs Award site here and find out how you can submit your choices. Recognize someone you follow today! Voting for nominees begins soon!
***************
Have you ever visited or commented on any of our nominee blogs?
Leave us a comment and let us know!
In kindergarten we have been doing an author study about Lois Ehlert. She writes wonderful stories that I love to read in the fall. After we read the books, we talk about the book-to-book connections we can make between the two books. Kindergarteners are great at making book links! They can tell you that both in both books, Lois Ehlert uses a cut-out technique. They can also tell you that she uses a collage technique in her illustrations.
This time after we read the stories, the kindergarteners got to do something really special in art class with Mrs. Lustgarten!   They made library to art connections by making their own leaf men! 
They also learned a new words like called  "frottage"!
Frottage is when you take a piece of paper and a crayon and rub over a textured plate.
Here are their awesome kindergarten Leaf Men!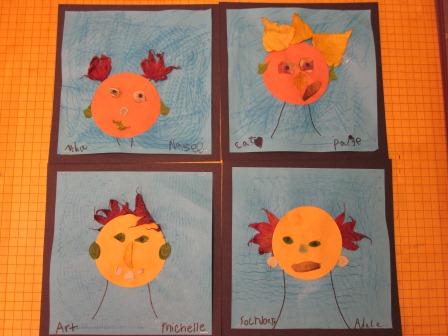 **************
Have you ever read a Lois Ehlert book?
What do you think about our kindergarten leaf art?
Have you ever used the collage or frottage technique in art?
Today is Veteran's Day. 
This national holiday is a day honoring all Veterans of the armed services. A veteran is a person who has served in the armed forces: Army, Navy, Marine Corps, Coast Guard or the Air Force either in peace time or during war.
In past years our students have honored Veterans at our school in assemblies, but this year we don't have a gym where we can all gather.  Instead, students are writing letters to Veterans, making posters and finding personal ways to thank our Veterans who have chosen to serve their country. Many of the 4th graders donated goodies to send overseas as a care package! One class of first graders even learned the Pledge of Allegiance in American Sign Language!
 To all our American Veterans, we say, Thank you!"
 We hope you will enjoy our movie celebrating our American Veteran's!
<
*********
How will you honor our Veterans on this holiday?
Does your country celebrate this day in a similar way?
Leave us a comment and let us know!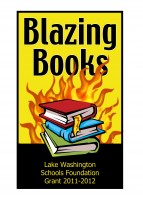 Thanks to a generous grant from the Lake Washington Schools Foundation, our library has
 

118 new, blazing hot books

!
 If you are a younger reader, you are going to love, love, love these books! Every new non-fiction book had to pass Mrs. Hembree strict wow criteria questions.
Is it a fun book to read?
Is it an exciting book to read?
Is it action packed?
Here are the new car books to select from. No boring books in this group!
 To go along with our math focus at school, some of the new books are math related.
"Crunch, crunch! The farm's horse loves munching apples.
Can you predict which color of apple the horse will eat next?
The horse has six red apples and two green apples.
Is it more or less likely she will pick a green apple?"
So, what do you think the answer is? Find out inside the book Pigs, Cows, and Probability!
I know a lot our students love joke books, so I added more to our collection! Here's a sample from the Jokes about Bugs:
"What did the bug say after it hit the window?
If I had the guts, I would do it again.
I also bought a new series called Easy Magic Tricks. These books teach you how to perform magic tricks with playing cards, coins, straws, balloons, and more! There are plenty of ideas here to challenge our budding magicians!
Not all of the books are fact or non-fiction books. We also have some new everybody picture books for our younger readers. They are housed on a special shelf too!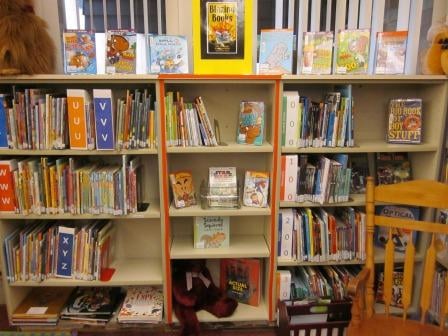 It seems like there are never enough Star Wars books in our library, so look at the new ones we've added!
This group of books includes early chapter books that are both fun to read and a little bit longer than the usual picture book. These are perfect for our readers who are ready to read chapter books.
Ten more Backpack Buddies have been added to our expanding Backpack Buddy collection. Inside each backpack is a book, a matching puppet, a journal and instructions on what to do.  They are a super fun way to practice reading at home! 
If you check out one of these books from our Bulldog Library, I hope you will let me know what you think about them! You can leave a comment on the blog or you can tell me in person! I am even hoping some people what to give me a review on film with our new Flip cameras! Imagine that….YOU can be a Bulldog Reader Star!
Our LWSF grant is also featured on the Lake Washington Schools Foundation Spotlight page! You can read the full article here.
*****************
What do you think about our new books?
Which ones do you want to check out?
Leave us a comment and let us know!
Picture Book Month officially began yesterday, November 1st! 
Picture Book Month is according to their website, "an international initiative to designate November as Picture Book Month, encouraging everyone to celebrate literacy with picture books. Founder, Dianne de Las Casas (author & storyteller) storyconnection.net, and Co-Founders, Katie Davis (author/illustrator) katiedavis.com, Elizabeth O. Dulemba (author/illustrator) www.dulemba.com, Tara Lazar (author) taralazar.wordpress.com, and Wendy Martin (author/illustrator) wendymartinillustration.com, are putting together their worldwide connections to make this happen."
Why designate a month to picture books?
You may be wondering why devote a month to picture books. Don't we all love picture books already?  The answer is simple. With the birth of eBooks, iPads, Kindles, Nooks and other online reading devices, many feel traditional printed picture books may be on the way out.
Founder Dianne de Las Casa decided it was time to celebrate picture books in their printed format so she created an initiative to designate November as "Picture Book Month". A number of authors, librarians and leaders in the literature community came on board and spread the word. Every day in November, there will be a new post from a picture book champion explaining why he/she thinks picture books are important. You can visit the website from the link here.
Let's celebrate the beauty of picture books!
Everyday in November, we will read a picture book in the Bulldog Library! We love picture books already, and this is just an extra incentive to remember and share why we love them.
To launch the month, yesterday I read Alphabeasties and Other Amazing Types by Sharon Werner. This book is an illustrated alphabet book for early readers that composes images of animals using only the first letter of its name.
 I am using this text with our first graders as they learn how the Everybody section of our library is set up in ABC order by the author's last name.
The kindergarten students will celebrate our fall colors with the picture books by Lois Ehlert! Every fall we do an author study of Lois Ehlert and how she uses cut-outs in her books! In addition, Mrs. Lustgarten, our art leader has planned an art project so go with our fall leaf picture book unit!
 I hope all of our readers will pledge to read a picture book a day for the month of November and beyond! I know I will be enjoying immersing myself in the books that transformed my reading experience from when I was a very young child. I hope you will join me!
*********************
What is your favorite picture book?
Will you join the pledge to read a picture book a day in November?
Leave us a comment and let us know!