What does your digital footprint look like?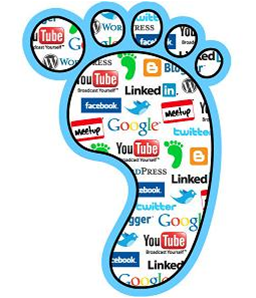 There is no better time to think about your digital footprint than at the beginning of the school year. This fall we are concentrating our intermediate library lessons on the themes of digital citizenship. In 2007 the International Society of Technology Educators (ISTE) published their National Educational Technology Standards for Students.
These are basic rules for using technology appropriately (Etiquette), communicating effectively (Communication), and protecting student safety (Rights and Responsibilities).
A person's Digital Footprint is the digital trail they leave each time any electronic or computer device is used. Just sent an email?   Played an online video game? Sent a photo to a friend? You left a digital footprint in each of these situations. You have the choice on whether your digital trailer is positive or negative depending on how you manage it. (CommonSenseMedia)
We watched a video introducing the concept  of person's digital footprint.
The vital lesson to be learned is that a person's digital footprint LASTS! It's actually more like a digital tattoo than a footprint.  Like tattoos, your digital footprint is extremely difficult to remove.
When we learn about the importance of digital citizenship and the mark we are making on the world, it's not a time to be scared. It's an opportunity to make that mark thoughtfully knowing you are creating a digital legacy for yourself.
 We also talked about not sharing your "YAPPY".
What is YAPPY you ask?
This acronym is a trick to remember what to NEVER post online.
Y = Your full name
A = Address
P = Phone number
P = Passwords
Y = Your plans
The next time to get online you might even want to find out what your digital footprint looks like already. Get together with your family and make a game of it. Simply go to your favorite search engine and type your name. See what pops up! Who has the most hits?
***************
What does your digital footprint look like?
How do you leave your digital mark the most?