What scares you?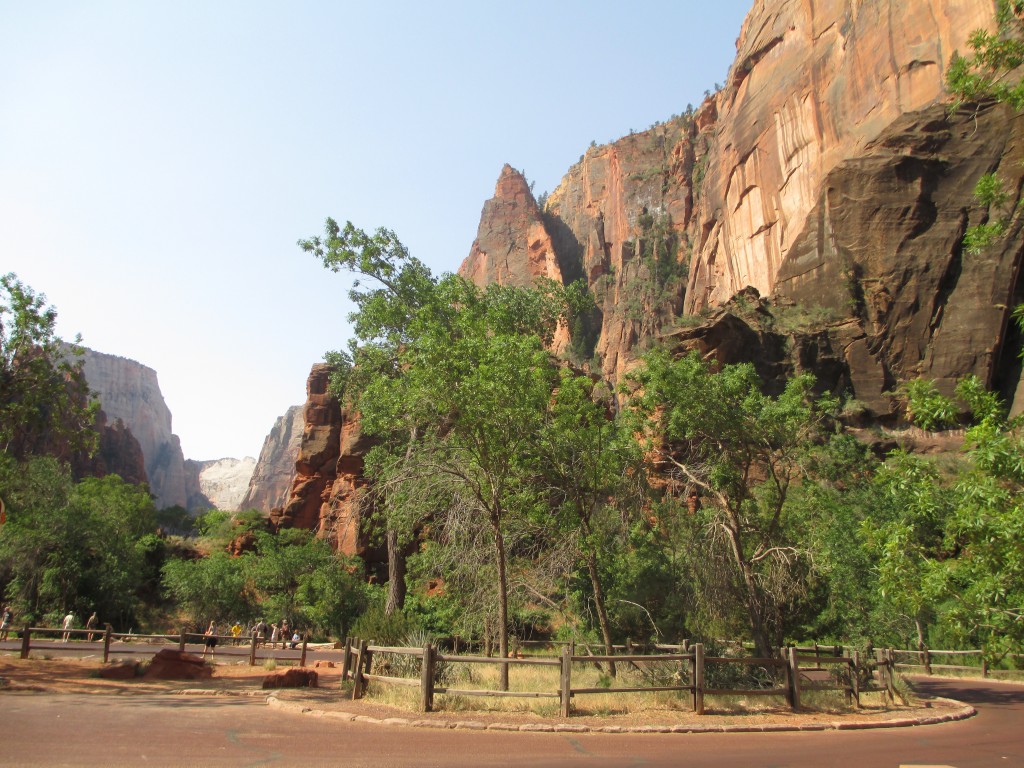 I just came back from an extended road trip to the Utah, Arizona and Nevada with my husband. The contrast between the green and mountains of Washington versus reds and canyons of the southwest amazed us both.
We hiked on trails in Zion, Bryce and Grand Canyon National Parks. This experience also forced me to daily confront one of my biggest fears- heights. Get me on the third rung of a ladder or five feet from the edge of a cliff or bridge and I become a terrified mess. I freeze, unable to move forward or backward, fearing that either move will mean the worst will happen to me. I don't know why I'm such a scaredy cat. Maybe it's from decades of reading adventure stories!
However, on this trip, if I wanted to see anything besides the parking lot, I was going to have to take a risk and confront my fears head on. Instead of reading an adventure story, I had to be in the plot myself. Plus, in the back of my mind I had a videotape playing of all the times I've asked others to try something new. I needed to walk the talk.
The trails of Zion warmed me up. We didn't tackle anything too dangerous and I could work through my fears at a comfortable level. At Bryce Canyon seeing the best views meant hiking down from the top edge of the canyon at 8,000 feet into the hoodoos on steep, twisting trails.
Then we drove to the north rim of the Grand Canyon. I'd been to the south side many years ago and I was secretly dreading this visit. I could hardly get to the edge on my first visit years ago. What was going to happen on this trip?
We started following where the other tourists were going. When I looked to see where they were going my first words were, "Oh no, I'm NOT going there." Fortunately for me, my husband wasn't listening to my fears and buying into them. He kept walking and pretending he couldn't hear me. The choice was mine. Not wanting to be left behind, I followed him. I wasn't winning any races, but taking each slow step kept me moving forward. Before long, I was at the viewpoint – the place I said I couldn't go to.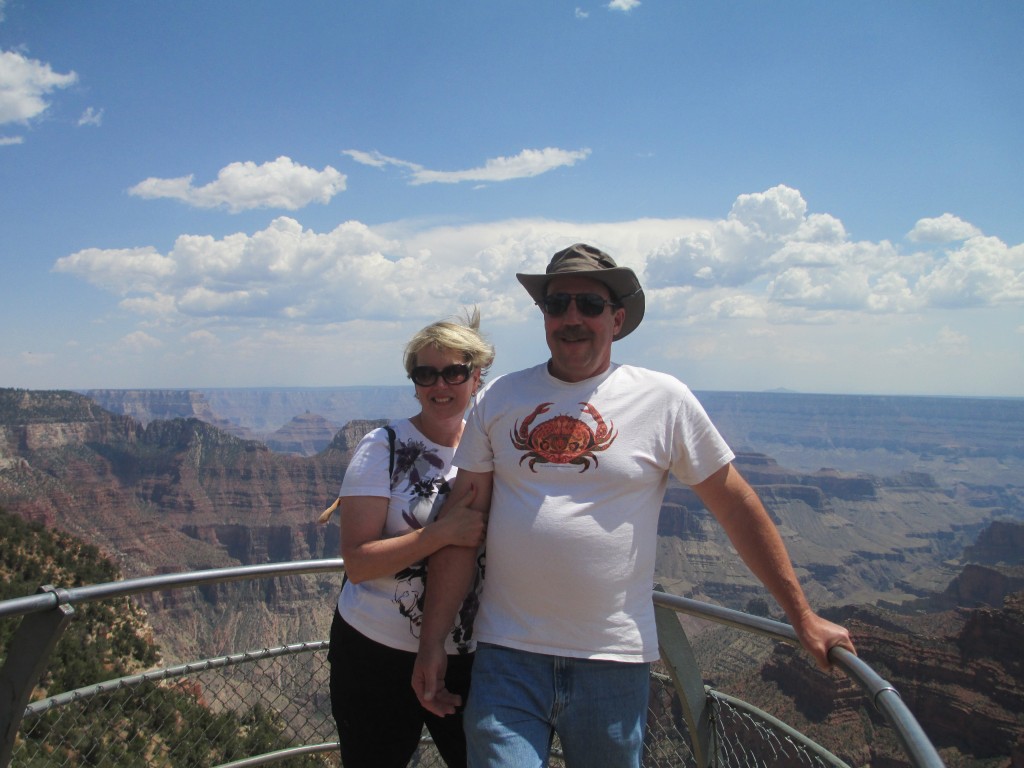 The feelings of empowerment overwhelmed me. I persisted and achieved what I didn't believe I was capable of accomplishing. I was also feeling exactly like my students after they took risks on assignments. I DID it! Was I terrified? Not really. Apprehensive for sure, but I had worked through the terror that is usually overwhelming.
The next day we visited the lower Antelope Canyon in Arizona where we had to climb up and down steep ladders to move through the slot canyon. Again, my motivation and experience eased the process.
During the majority of the trip we were internet free. Most places didn't have any internet connection or it was so slow, it was like dial up days. I just took the opportunity to live some days "un-connected."  However, I couldn't resist peeking onto my Facebook account when I discovered my phone could connect at one hotel. Flipping through the updates, I saw this Facebook post, and found out I won the 2013 school librarian Educator Voice Honoree Award!
Learning about the award at a time when I was confronting my deepest fear and learning the depths of what I could accomplish physically and mentally beyond my comfort zone was especially sweet. This award isn't about being the best of something. As the website says, "The goal of the Educator's Voice is to surface great work being done by educators who are way off the radar screen." The timing couldn't have been more perfect.  You can read more about the Bammy Awards here and the Educator Voice Awards here. 
Thank you to the students, parents, colleagues,  and friends who voted for me. I especially would like to thank Pauline Roberts, a colleague in Detroit, Michigan.  Your support and belief that it's okay to push the limits of what a school librarian can do in the classroom keeps me motivated and laughing! Thanks also go to Nancy L, who wasn't able to log her vote online, but instead wrote me the most beautiful  and personal note a teacher could receive. To my wonderful family on both coasts, especially Joe who is my loudest cheerleader, and Tara who has now started her own PNW Runner Blog, thank you for always being there for me. I love you all!
I also want to share this award with my circle of librarian and teacher friends near and far. You teach me something new everyday. These connections with each other help me remember that facing our fears isn't about failure. It's about pushing our limits and finding success in the unknown.
**************
What are you afraid of? How have you moved past your fears?