Happy New Year! Welcome to 2013 and a new year of reading!
I am thrilled to start off our year with a student book review by Kaito. He recently read Flying the Dragon by Natalie Dia Lorenzi and submitted this book report as soon as he returned from winter break.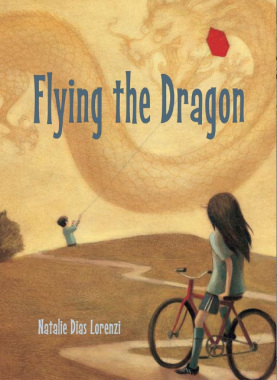 Main Characters: Grandfather, Hiroshi and Skye.
Story Setting: The story takes place in Japan and America.
Story summary: Grandfather lives in America. Hiroshi lives in Japan. Grandfather and Hiroshi fly dragon kites. His grandfather is now sick, so the entire family has to move to America. Hiroshi has to hang-out with his cousin Skye.
Main Events: The main event is the kite battle in Washington, DC. Hiroshi and Skye battle the other competitors with their dragon kite.
1 opinion and 1 fact about the story: Dragon kites are real and legendary. I think dragon kites are fun to fly.
Thank you Kaito for sharing your ideas about this book. I read it too and thought it was pretty terrific. I learned a lot about the Japanese language, culture and kite flying from reading it.
This book is a chapter book and would be good for kids in grades 3rd and up. It is in the realistic fiction section of our library. The call number is F LOR  REALISTIC
You can also read about how the  illustrator Kelly Murphy created the cover for The Flying Dragon. Click on this link to take you to that interview.
*************
Have you ever flown a kite before?
What do you like to do for fun with your grandparents?
Leave us a comment and let us know!