Are you counting the days, hours, minutes until the opening of the Hunger Games movie?
Check out our new display for the most highly anticipated movie since Twilight! This series has been in the top ten among 6th graders for the last two years. Now it's coming to the big screen!
 I have to admit, I usually HATE movies that are made from books. Somehow they never live up to my expectations. However, this time, given the fact that Suzanne Collins worked with the the producers of the time, I am crossing my fingers that THIS film will be awesome!
Of course, it took a little reading to convince myself about whether or not to go to the movie.
Besides the 6th graders who are anticipating the movie, and myself, there are some staff members who I hear have opening day tickets!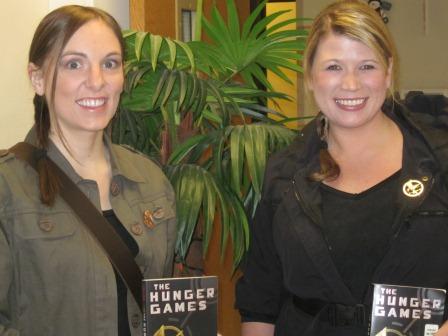 Now if you are wondering what all the hype is about, Scholastic has published an interview with Suzanne Collins who explains about the Hunger Game series. If you want more information, please visit the Scholastic Video website here.

 
 *********************
Which one of the Hunger Games books was your favorite?
Do you think the movie will live up to the books?