On Friday, Mrs. Raffel's library class Mystery Skyped with a class in Nebraska!
Mystery Skyping is when one class skypes another class and you have to figure out what state they are skyping from.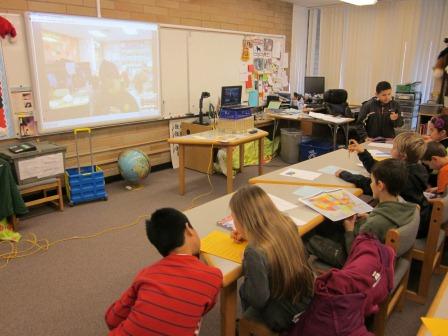 The last time Mrs. Raffel's class came to library, they researched the answers to ten questions about Washington.
They would be sharing this information with the other class during the skype session.
3 Interesting Facts
Time Zone
Famous People
Climate of the state
Famous Landmarks
Vacation Places
Bordering States
Capital city
Our students took turns sharing facts about each others' states. As the students learned a new piece of information, they used their almanacs, USA map and time zone map to narrow down the choices.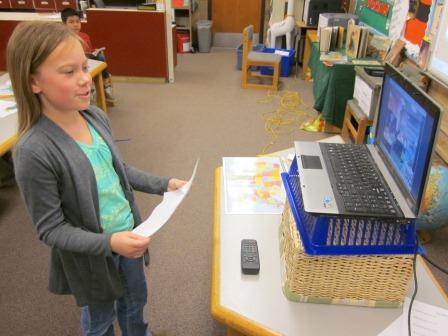 After all the facts were shared, the students had one chance to guess which state the other class was from.
We all learned new information about Nebraska and Mrs. Geldes' class. You can visit her blog here. For example, there is a large Air Force base in Nebraska. We also found out that the name Nebraska, means "flat water" in the Oto Indian language. Former President Gerald Ford was born in Nebraska. It's very cold there in the winter and very hot in the summer.
Nebraska is is divided by two time zones: Mountain Time Zone and Central Time Zone. Mrs. Geldes' class was in the Central Time zone, which meant they were two hours ahead of Pacific Time. The fact that confused us the most was that Nebraska has the largest indoor rainforest. Since Washington has a large temperate rainforest on the Olympic Pennisula, it was curious to us that they had an indoor rain forest!
After we each guessed correctly, we spent a couple minutes sharing answers to other questions. We all found it funny when we found out their school was in Bellevue, Nebraska when our town borders Bellevue, Washington!
Following our Skyping session, we spent a few minutes reflecting on the experience. All agreed that it was a really fun way to learn about geography.
"It was a cool experience to find out where someone lived with the rest of the class." ~ Kobe
"I like seeing another class from another state. It kind of feels fun talking to a class that about 750 miles away from you.! ~ Georgia
"It was fun to learn about their mystery state and about their school." ~Kaylee
"I knew what state it was on the famous people question!" ~Natalie
"It was kind of scary because we had no clue who you guys were!"  ~Haley, Erika & Eduardo
"I thought it was amazing! I never ever met some people in another state. I wish we can do another Mystery Skype!" ~ Erika
"It was awesome! We thought it was nice talking a 3-state away classroom and searching through the almanac." ~Niku & Jack
"It was weird talking to a different class. It was really fun as well! " ~Irislyn & Taylor
"It was fun learning new places and facts in Nebraska. The fun part was being able to talk with another school!" ~Mark
"It was nice to Mystery Skype!" ~ Eric
*************
What did you learn about Nebraska?
Should we try Mystery Skyping again?
Have you ever skyped with another classroom?