Book Review: Wild Girl by Patricia Reilly Giff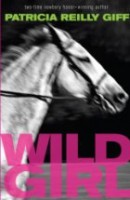 If you love everything horses, then Wild Girl by Patricia Reilly Giff is a good choice for you. After her mother dies, Lidie who lives in Brazil, finds that she has to move to New York to live with her father and older brother. She hasn't seen them in years and they have some awkward moments in the weeks after their reunion. Add going to a new school where you don't speak English, and nobody speaks Portuguese, and you have some tough times. Luckily for Lidie, her father is a trainer at a famous racetrack and she can live around the horses she adores.
Every other chapter tells the story about a new born foal and its start in life. Like Lidie, the foal faces many difficulties as it is removed from its mother and has to start life anew.
The story comes alive when Lidie and the foal come together at her father's stable. A satisfying read for girls who love horse books. (Reviewed by Mrs. Hembree)

No comments yet.
No trackbacks yet.
about 2 years ago - 4 comments
Snowball by Ellen Miles (part of the Puppy Place series)      This book is about a puppy that has no home. The family is the Peterson's and they have a foster home for dogs and puppies. Mr. Peterson has a friend that works at a gas station. One day, Mr. Peterson got a call from his friend More >